24/7 AVAILABILITY 10,000 m3 capacity
Useful for many Applications
Paper, textile, Chemical & lubricants industries
Safi water perfectly meets requirements for industries producing metals, wood and paper products, chemicals, gasoline and oils.
Ships & barges
Safi has large number of clients in this region who prefer to use Safi water for ships and barges due to its standard and consistent quality.
Cement factory
Maintaining low conductivity and PH makes Safi water indispensable for cement application. It helps to reduce raw material feed temperature.
Ready-mix & Block manufacturing
It is essential to use low-salinity water to mix concrete in order to make a quality product.
District cooling
District cooling plants are heavy users of Safi water thanks to its low TDS and chlorides which contribute to increase the number of water cycles.
Car wash
Contaminated/Salt/High TDS water can cause car color damage. Safi water is perfect solution for car wash companies to avoid these problems.
Construction sites
Using water like Safi will allow customers to save their building from Soil salinity where as ground water with high TDS would destroy basement of the building.
Asphalt plant
Desirable asphalt emulsion can be achieved using Safi water. With around 30 to 50% of the total content, using our water will help in reduce the production cost.
Our Services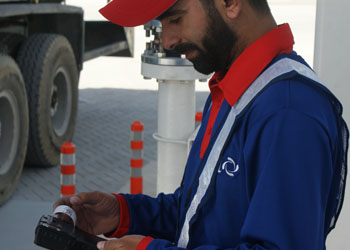 A green solution
Overcoming the water shortage by increasing additional water resources is high on the national agenda and demands working in several directions. As treated water is one of the essential and cost effective solutions, Safi Water Company built in 2011 is contributing towards this goal.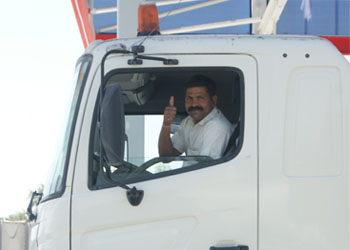 Services
Supply of water to premises (using a 3rd party distributor)
22 filling bays 30-minute filling time for 10,000 GLN tankers
Fast track bay for priority customers
24/7 Availability of water thorughout the year
Team of qualified engineers and commercials dedicated to address your specific queestions or queries
Performance guaranteed
Cashless sales with prepaid cards
Online app to monitor live delivery time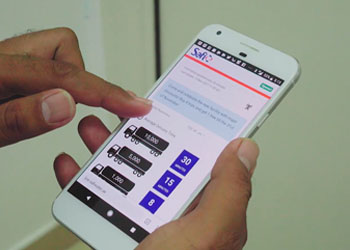 Facts
ISO 9001 certified
Online app to monitor live delivery time
Comparison Between Safi & Bottled Water
Whilst SAFI water is intended for non-drinking use, its quality is as good as bottled water. Comparison of chemical composition of Safi water with bottled water.
| Parameters | Units | Safi Water | Bottled Water |
| --- | --- | --- | --- |
| Appearance | --- | Clear Liquid | Clear Liquid |
| Calcium | mg/Ltr. | &lt1 | 15 |
| Chloride | mg/Ltr. | 28 | 23 |
| Sodium | mg/Ltr. | 39 | 4 |
| Bicarbonates | mg/Ltr. | 66 | 27 |
| Magnesium | mg/Ltr. | &lt1 | 8 |
| Sulphate | mg/Ltr. | &lt1 | 23 |
| Potassium | mg/Ltr. | 2 | 11 |
| Fluoride | mg/Ltr. | &lt0.1 | &lt0.1 |
| Nitrate | mg/Ltr. | &lt0.1 | &lt0.1 |
| TDS | mg/Ltr. | 115 | 118 |
| PH | --- | 7.3 | 7.7 |
Achievements
In 2012, His Highness Sheikh Rashid Bin Humaid Al Nuaimi accepted on behalf of Safi a distinction award for the best water reuse project by Global Water Intelligence, highligthing the benefits to both environment and the population of Ajman.
In 2017, Safi launched a fully revamped and shaded facility with an organize queuing system, which was inaugurated by Sheikh Humaid Al Nuaimi (Supreme Council Member and Rules of Ajman).
In 2018, SAFI awarded with National winner at MEEDS Project awards.
About Us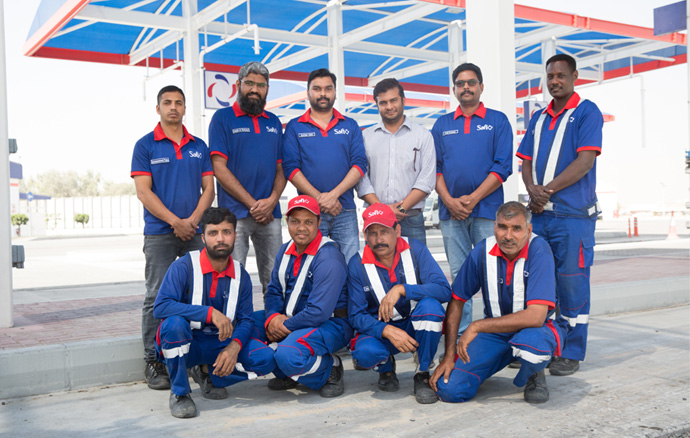 Mission Statement
Our mission is to propose a reliable source of high quality water for commercial and industrial applications at a competitive cost with a particular focus on customer service and sustainability.
Vision
Our vision is to transform the water supply by tanker to become a customer oriented service caring about the environment and the community.